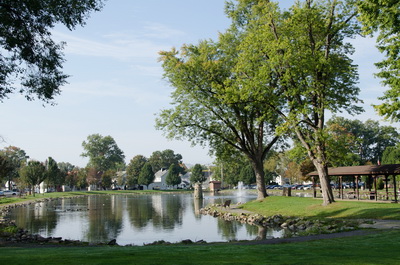 Tuscora Park, New Philadelphia, OH
Site of the 2018 Ohio Polio Network Conference
Please mark your calendars….our upcoming semi-annual OPN Conference is set for SATURDAY, SEPTEMBER 15, 2018. It will be held at the Tuscora Park Pavilion, 161 Tuscora Ave., N.W. in New Philadelphia. Cost is only $25.00 for a polio survivor and $40.00 for a survivor and guest, with a deadline of September 1st for mailing your registration form and check. The conference registration brochure with all information is scheduled to be mailed via e-mail/regular mail in the very near future. This will be a very educational and informative conference…we hope you are planning to attend!
Registration begins at 9:30 am with a light continental breakfast. Our first featured speaker begins at 10:00 am and will be Dr. Hallie Baker, PhD, LSW & Associate Professor in the Psychology Department at Muskingum University in New Concord, Ohio. Her presentation is titled "Survivors of Polio and Their Families: Triumphs of the Past and Challenges of the Present and Future." We will then have a short break, followed by a very nice lunch at 12:30 pm.
Our second featured speaker begins at 1:30 pm and will be Dr. Roswell B. Dorsett III, DO who is a Board Certified Neurologist at the Neurology & Neuroscience Assoc. Inc. in Akron, Ohio. The title of his presentation is "Medical Aspects of Post-Polio Syndrome: Symptoms, Progression and Treatment."
Time will be allotted for questions after each presentation. Following Dr. Dorsett's presentation, there will be a very brief OPN meeting, including election of a new OPN Board and presentation of the Bernice Krumhansl Award. Adjournment is 4:00 pm.