Joyce Young became an active member of our support group. We held several of our meetings at the Washington Township Government Center as her guests.
Arlene Zachritz, Chairman
Miami Valley Post-Polio Support Group
WASHINGTON TWP. – Joyce Young, who served in leadership posts of several Dayton-area organizations since the mid-1970s, is being remembered for her passion, frankness, generosity and enthusiasm.
Those are among the qualities Young, who died Saturday at 86, was known for during her service on Miami Valley and Ohio boards that included the Washington Twp. trustees, the local United Way, the Human Race Theatre Co. and the Ohio Children's Trust Fund.
"Joyce Young was a committed and generous community member who made significant contributions to further the work of United Way of the Greater Dayton Area," that organization said in a statement Tuesday afternoon. "We are grateful for all she did for the Dayton region and she will be greatly missed."
The local United Way recognized Young in as a legacy leader in 2012. More than 20 years earlier – four years before Young became a Washington Twp. trustee – she was inducted into the Presidents Club of Dayton's Citizen Legion of Honor.
Established in 1951, the Citizen Legion of Honor Award "is the region's premier volunteer recognition honoring community servant leaders for their unselfish dedication to our area and its people," its website states.
"In Washington Township and beyond, Joyce was synonymous with community voluntarism and leadership, particularly when it came to advocating for children, seniors and individuals with disabilities," township trustee President Sharon Lowry said in a statement.
"I will greatly miss her passion, energy, and enthusiasm for generating positive change," she added.
Lowry and Centerville Mayor Brooks Compton both noted Young's work as co-chair of a panel which created a 214-page comprehensive plan adopted by both the city and the township.
After becoming a Washington Twp. trustee in the 1995, Young garnered the most votes of any trustee candidate on the ballot all four times she faced re-election in this century, according to Montgomery County records. Young opted not to seek re-election in 2017.
Township Administrator Jesse Lightle said Young was one of the trustees who hired her in 2006 as deputy administrator.
"Over the years, she became a mentor and someone I deeply respected," Lightle said in a statement. "I turned to her countless times seeking professional advice, knowing I could trust her judgment to not only be balanced and fair, but also frank and direct."
Decades earlier, Young served as chair of the health and welfare planning council and joined the board of the United Way Greater Dayton Area when the two merged.
She was a member of the United Way board from 1975-82 and was appointed to the United Way Public Policy Committee in 1983.
Young also served on civic boards involving the Boonshoft Museum of Discovery, the Human Race, and the Montgomery County Family and Children First Council.
She was a past chair of the Ohio Rehabilitation Services Commission, a state-wide agency that partners with individuals with disabilities to achieve quality employment and independence.
Young also served as: Executive director of the Wright State School of Medicine Foundation; the governor's appointee to the Ohio Children's Trust Fund; president of the Junior League; and a member of Rotary International.
No public services are scheduled at this time, according to Tobias Funeral Home - Far Hills Chapel, which is handling the arrangements.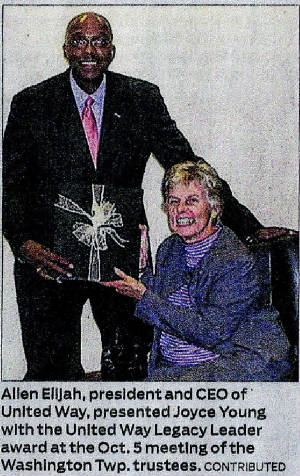 JOYCE YOUNG 1934-2020
The former longtime Washington Twp. trustee served on many boards and organizations in her career, and was honored with several awards. Among them:
•BOARDS AND ORGANIZATIONS: Director emeritus, Dayton Chapter of the American Red Cross; chair, Ohio Rehabilitation Services Commission; president, Miami Valley Child Development Centers; president, Health and Welfare Planning Council; United Way of the Greater Dayton Area board; Montgomery County Homeless Solutions policy board; Ohio Children's Trust Fund board; Boonshoft Museum of Discovery board; Dayton Art Institute board.
•AWARDS: Inducted into the Presidents Club of Dayton's Citizen Legion of Honor; United Way of the Greater Dayton Area Legacy Leader; Montgomery County Citizen of the Year; YWCA Lifetime Achievement Award and Women of Influence Award.
SOURCES: Washington Twp. and Dayton Daily News archives.
Beloved Dayton volunteer overcomes disability, diagnosis to inspire and help others
HEALTH NEWS| Oct 24, 2012
By Beth Anspach
Having developed an interest in politics early in life from watching her father and grandfather's involvement, it isn't surprising that Joyce Young has served Washington Twp. as a trustee for the past 17 years.
But most people are surprised that Young has continued to serve the community, as a politician and volunteer, while fighting disease.
"I contracted polio when I was 18 years old after I finished my first year of college in Massachusetts," Young said. "I came home that summer, and it was the beginning of the outbreak in 1953." The Salk vaccine for polio didn't begin human trials until several years later in 1955.
Though the prognosis for those who contracted the disease was mostly grim and the outlook for Young was that she would probably not walk again, doctors were reluctant to tell her parents much of anything. "My parents refused to listen to anything negative anyway," Young said. "I was lucky because they were tremendous. I was in the hospital from July until October, and then I went home and started physical therapy."
That was also the summer Young met her future husband, Fred, who was from Dayton, and was studying for a law degree.
"My parents were sure I was going to walk again, and I was determined to walk down the aisle to marry Fred," Young said. The following year she did just that and the young couple went back to college together – Young to Radcliffe and Fred to Harvard Law School.
Eventually the couple moved to Dayton so Fred could join his family law firm. "We had four daughters and moved to Centerville," Young said.
Young's polio affected her ability to walk and she continued to use crutches, but it never affected her energy level or ability to become involved in the community and help others.
According to her friend, Madonna Allread, Young sees it as her "mission to help improve the lives of others." Through the years, she has served on the boards of the Boonshoft Museum of Discovery, The Dayton Art Institute, Sinclair Community College, Daybreak, the YWCA and the United Way. She is a member of the Junior League and has a passion for advocating for children, seniors and people with disabilities.
"Joyce takes on leadership positions and is involved with almost every organization that improves the quality of life of individuals," Allread said. "Joyce could have taken a different path because of the physical obstacles in her life. But she has taken every negative physical health issue and turned it in to a celebration of the way she lives her life. She has become a role model to everyone she meets as she lives her life to the fullest.
Even after being diagnosed with breast cancer in 1987, Young continued to stay busy and fight the disease, believing her only choice was to move forward.
"My doctor found a lump during a routine checkup," she said. "I was lucky they found it when they did. I had surgery, radiation and chemo, and I continued to work. My husband was wonderful and everyone in my life was very supportive and 24 years later, here I am, still cancer free."
In 2005, Young began falling and breaking bones. "I have post-polio syndrome," she said. "It's a condition that can affect survivors years after they have the disease."
Young's condition, which causes weakening of muscles and joint degeneration, eventually forced her into a wheelchair full time.
"I found a secondhand van with ramps that I use to help me get around now," Young said.
Young has always had an interest in helping people with disabilities, but feels she has "more clout" when speaking on behalf of those who need help. "It means more coming from someone else who is disabled," Young said.
She is a passionate supporter of the Montgomery County Human Services Levy and works to raise funds for the campaign. "I think the county has done a good job of making sure that no one in need is left out with this levy," Young said. "It's really about positive living for special populations."
Throughout her life, Young said she has been fortunate and blessed to have met many wonderful people. "Dayton is a warm community and everyone has been so generous and kind," she said. "I really do want to thank everyone for that."